In my first year out of graduate school, I worked with students ranging from K-5 in one building, and I had my own therapy room...with a window!
Fast forward two years, and I began working in my current school district, which consists of five different buildings, two of which are on opposite sides of town. Unfortunately, I could no longer happily house my therapy supplies in one place.
After eight years working in this school district and perfecting my organization methods along the way, here are my three top tips to stay organized as a traveling OT:
Use an accordion file. Aside from student files, I keep all of my papers in one accordion file. I label each section as follows: weekly worksheets, blank paper, construction paper, wide lined paper, narrow lined paper, and to-be-filed materials. This way, I have my worksheets and writing paper ready to go for each classroom, and I don't have to worry about keeping various papers stocked in each room. Also, since I have mailboxes to check in multiple buildings, I can grab my mail and store it in my accordion file until I have time to file it.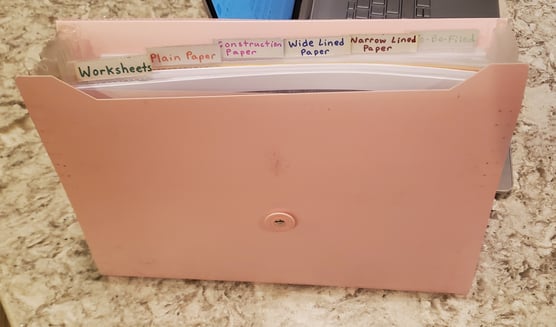 Invest in a cart. I initially purchased my cart while I was pregnant, and I don't know how I went so long without it. My cart easily holds my accordion file, data collection binder, laptop, marker box, supply box, a couple puzzles, and a game. I also recommend getting a cart that has a lid, which has come in very handy on several occasions when I had to trek between schools in the pouring rain. In addition to a cart, I still have my therapy bag (as every OT needs a "bag of tricks"), but my bag is much lighter to carry around. It only holds craft supplies, therapy manipulatives, and my water bottle.


Install a car organizer. I have to credit my thoughtful husband on this one, but a trunk organizer is perfect for keeping your materials from sliding all over the back of your car. In the first compartment, I keep evaluation folders and extra testing protocols. That way, if I have an unexpected opening during the school day, I can easily run out to the car to grab a student file and work on some reports. In the second compartment, I keep materials that need to be organized or put away, such as leftover craft materials. I have a rule that once a compartment is full, I have to put everything away!


After obtaining an accordion file, rolling cart, and car organizer, you will have easy access to all of your therapy materials, no matter how many school buildings and rooms you visit each week!

About The Author

Tahnee earned her Masters Degree in Occupational Therapy from the University of Illinois at Chicago in 2010. She has worked with the pediatric population in the school setting since 2010 and in the outpatient clinic setting since 2013. Outside of work, Tahnee enjoys spending time with her husband, Nathan, her daughter, Zoe, and her dog, Ruthie.