It's the end of the year. Your students are looking forward to summer break and so are you! Typically by the end of the year, the weather is nicer and the students are more antsy to get outside. Lately, I have seen an increase in articles and activities about movement, so I decided to try it out in my own therapy sessions and I have LOVED it.
By incorporating movement, I have noticed that I have increased student engagement, have students who are better focused, and have been able to integrate more sensory activities. My students love getting to go outside and move or walking around my room. It helps spice up speech and language therapy to where they're not always doing the same activity, game, or worksheet.
A study by Mullender-Winjnsma, Hartmen, et al. reported that incorporating movement into learning has shown greater academic gains in the areas of math and reading. So why not try and apply this to therapy? Students may require an integrative approach in order to learn new concepts. An integrative approach is not something new to speech therapists though! We do this everyday when we provide a variety of cueing, whether that be visual, auditory, or physical cues or a combination of them all. We understand that each student is different and requires different input in order to be successful.
Below are a few ideas of activities you can use to incorporate movement!
Scavenger hunt/hide and find: The SLP can hide flashcards, containing concepts or articulation words, around the room (or for older students, around the school). The students search for these cards and once found, practice their speech/language concept. For older students, it may be beneficial to reverse the roles. Have students hide the items and describe to you where they hid them. For an added motivator, if the student finds all 10 cards, they could receive a "reward" (e.g., candy/treat, extra iPad time, sticker, etc).


Exercise cards: Write down a few exercises (e.g., jumping jacks, toe touches, etc) down on post-its. Allow the students to practice their goals and then choose an exercise out of the bag. This activity may not be for everyone but I have noticed that my younger students love it and enjoy showing me the things they have learned in PE.


Sensory room: If you have access to a sensory room in your school, now is the time to use it! Use the swing or trampoline while targeting your goals. If making the whole session about movement doesn't work for you, you can always spend the beginning few minutes integrating movement to help better student focus.
Hopefully these activities help give you that final push to the finish line this school year!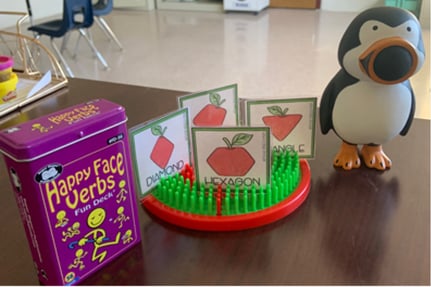 Sources:
Mullender-Wijnsma, M.J., Hartman, E., de Greef, J.W., Doolaard, S., Bosker, R.J., & Visscher, C. (2016). Physically active math and language lessons improve academic achievement: a cluster randomized controlled trial. Pediatrics, 137 (3).
About The Author

Hannah Greeling is a speech-language pathologist who works in the school setting. Her current population consists of students in early childhood through 2nd grade. However through her previous experiences, she has worked with children ages 2-15. She enjoys the diversity that speech pathology brings and hopes to share strategies and ideas to help facilitate communication with your students. She received her undergraduate degree in Communication Disorders and Sciences from Eastern Illinois University and her masters degree in Speech-Language Pathology from Southern Illinois University Edwardsville.