Medicaid In Schools
Medicaid is a federal-state program that provides health insurance to millions of low-income Americans. It was established in 1965 as Title XIX of the Social Security Act to help states offer medical assistance to persons with low incomes. It is jointly financed by the state and federal governments. In 1988, IDEA was amended to allow schools the opportunity to submit claims for Medicaid reimbursement for medically necessary services they provide to students who have an IEP.
Each state has the opportunity to decide the following basic information:
Who is eligible for coverage
The type, amount, and scope of covered services
Provider types that can bill for Medicaid reimbursement
Rates paid for services
Why Bill for Medicaid?
Medicaid is particularly attractive as a funding source for public schools. It is an additional revenue stream which offsets costs of services schools already provide. As long as providers follow the state rules for reimbursement, the districts are able to receive reimbursement for Medicaid services they provide to students.
What Can Schools Spend the Money On?
Schools deposit the Medicaid reimbursement funds into the general account. The extra funding could allow for schools to add additional health care service options, increase the efficiency and quantity of Medicaid related services, strengthen opportunities for parental support and connection to healthcare options, and provide for extra technology support when needed. Each district assess the area of most need and is able to apply the extra Medicaid reimbursement resources freely.
Parent Consent & Informational Supports
Parents are asked to sign a Medicaid Consent Form to release student information to the Medicaid state agency. This is a one-time consent request while their child is attending the public school, but parents have the option to withdraw consent at anytime. Signing parental consent does not impact current family benefits in any way.
Embrace® has a Parent Question & Answer document that schools can share with parents regarding their rights and protections relating to parental consent.
Supporting Families to Access Medicaid Resources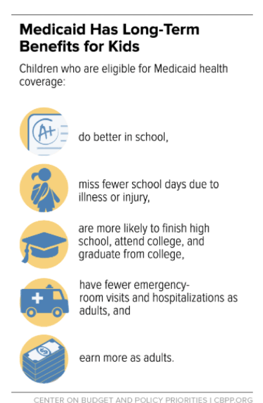 Helping families gain access to Medicaid resources is an important part of the school Medicaid outreach program. As shown in the graphic, it has been proven that children who have access to Medicaid benefits are more likely to have better outcomes as adults.
In Illinois, there is an online resource that provides an informational overview of the application process, and also allows parents to register for potential benefits.
The Application for Benefits Eligibility site is: https://abe.illinois.gov/abe/access/
Embrace® has an ABE Informational Handout that schools can print and share with parents, regarding the ABE website and important contact information.
Medicaid Regulations
Healthcare and Family Services (HFS) releases a Manual for School-Based Medicaid billing in Illinois, called the U-200 Manual. Districts can share and review the manual to educate staff on the claiming regulations that are required for submitting service claims for reimbursement. There is also a web service that administrators can sign up for to receive Provider Notices, released by HFS, relating to changes and updates to school-based Medicaid billing.
That link is: https://www2.illinois.gov/hfs/MedicalProviders/notices/Pages/default.aspx
Embrace® Services & Supports
Embrace® offers a streamlined service documentation program that districts can utilize to document service delivery for all students they work with. EmbraceDS® provides in-system notifications regarding missing consents, referrals, and prescriptions, and will automatically pull Medicaid eligible student service data and submit it for claims on behalf of the district.
Embrace® has a specialized Medicaid Team that is available to answer questions and provide guidance for school based Medicaid billing. For more information, visit our EmbraceDS® product page!