Fidgets sometimes get a bad reputation. Can fidgets become disruptive or distracting in the classroom? Yes. But, if used properly, fidgets are incredibly helpful to students. Fidgets can provide movement breaks and sensory input, but they also improve learning by reducing stress and increasing focus. The best part about fidgets is benefits are received while remaining in the classroom! Many students want the benefits of fidgets without the attention from peers and educators want the benefits for their students without the disruption of a "toy." Listed below are a variety of fidgets that present in the low-profile category, providing less playful input for students. The goal for these fidgets is to provide the desired input while decreasing distractibility to the student, teacher, and classmates.

Velcro Strips
Use a strip of Velcro on the bottom of a student's chair or desk. Does the student change classrooms throughout the day? No problem! Place the strip on their planner or binder to take from room to room. One or both sides of the Velcro can be used to provide differing input.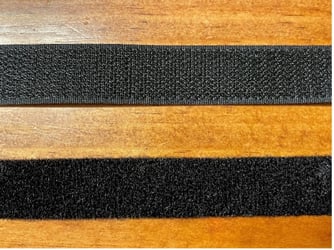 Resistance Bands
Tie a resistant exercise band to two legs on the student's chair or two legs of the desk. This allows the student to press against the band with their feet, providing movement and resistance.

Jewelry
There are a variety of options for types of fidget jewelry. Some options present as typical metal jewelry, but other types are made from silicone material. A few favorites are metal sensory rings and bracelets with components that slide, silicone rings, popper bracelets, and coiled bracelets.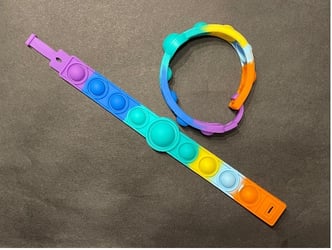 Calming Strips
Calming strips can be purchased pre-made or you can create your own. A great DIY option is to use puff paint in addition to a variety of textured papers and fabrics. One of my favorite options to use is textured vinyl. Another option that I recently found looks and feels like the bumps on Lego blocks.

Writing Tools
Writing tools can be customized to serve as a fidget. There are many different types of pencil toppers and pencil grips, each made from a variety of materials. A few favorites are squish toppers and nut/bolt spin toppers. Some students just enjoy the feel of a cushioned grip, to give that extra squish while writing.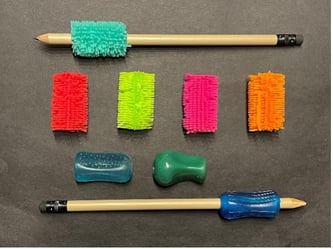 Try these low-profile fidget options to assist your students in their academic journey!
About The Author

Emily attended Maryville University of St. Louis, where she earned her Masters of Occupational Therapy degree in 2010. She began her career in the hospital setting, but has worked as a school based occupational therapist since 2013. Emily currently provides services to students in three local school districts. When she is not working, Emily enjoys traveling, trying new foods, and spending time with her husband, Daniel, daughter, Delaney, and son, Emmett.