Starting around second grade, most students begin to make the transition from writing on three-lined penmanship paper to writing on single-lined notebook paper.
In some instances, I have seen students master sizing their letters correctly onto three-lined paper during their Kindergarten and first grade years but have difficulty using legible handwriting on notebook paper once they get older. These students often demonstrate inconsistent letter sizing, and they may also have difficulty writing around "tail" letters that fall below the line.
If you have a student struggling with writing on single lines, try some of my go-to strategies for improving these skills:
Draw a colored dot on every other line along the margin of the paper. Leaving a space between each line will help your student form those tail letters appropriately and will make the student's writing appear less crowded.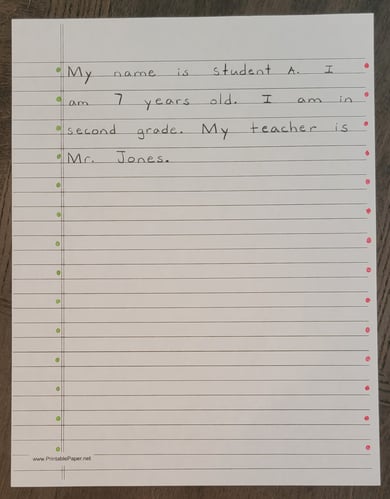 Find free paper templates online, such as at printablepaper.net. I often use one paper template that resembles wide-ruled notebook paper with a middle, dotted line. This paper helps teach the student how tall or small he or she needs to size those lowercase letters and is a great bridge to writing on regular notebook paper.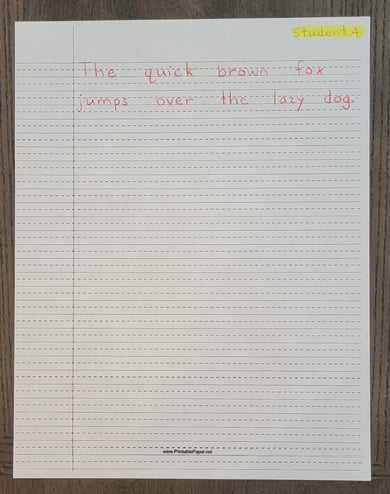 If your student is having difficulty writing small enough on fill-in-the-blank or short answer worksheets, my students love the "Don't fall off the cliff!" strategy. At the bottom of the paper, I draw something funny like a volcano or a sea of sharks. The student then has to practice sizing his or her letters small enough to fit all of the text on the line so that none of the words fall into the volcano or get eaten by a shark!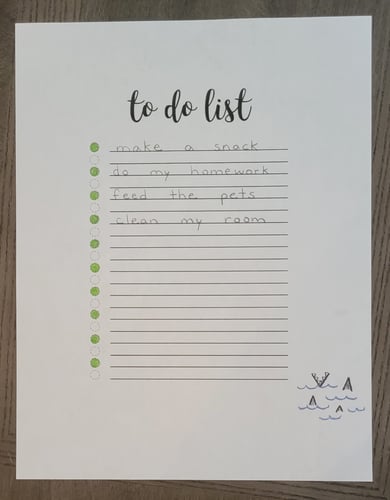 Another strategy to help students write smaller on worksheets is to use a highlighter to indicate how small the student should write. This strategy is especially helpful when there is a large amount of "white space" above a line, such as the white space above the name line on many worksheets. Challenge your students to write small enough to keep their letters inside the highlighted portion. Then, you can gradually fade the highlighter over time.
Learning to write on single-lined paper can be a tricky skill, however, you can help ease the transition for your students and make writing fun by utilizing these strategies!

---
About The Author

Tahnee earned her Masters Degree in Occupational Therapy from the University of Illinois at Chicago in 2010. She has worked with the pediatric population in the school setting since 2010 and in the outpatient clinic setting since 2013. Outside of work, Tahnee enjoys spending time with her husband, Nathan, her daughter, Zoe, and her dog, Ruthie.