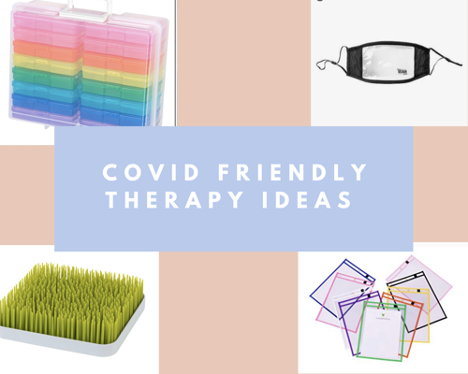 Many of us have now made it through one year of providing therapy during COVID! Whether that was teletherapy, or in person, everyone should be proud of navigating through all the unknowns! Although this year may be similar, I feel more confident in my creativity, and have seen many ideas on social media that provide safe, easy to disinfect materials for therapy.
Here are some ideas:
Crafts: Crafts are still possible!! Although we can't use shared materials, you can ask students to bring their own personal pencil boxes or materials from the classroom. Another option is to have individual speech boxes for everyone. I chose to do this last year and this year. I purchased photo boxes (as seen below) and supplied a glue stick, a small box of crayons, and play doh for all my students. This allowed for everyone's materials to be kept separate.
Games: Game boards and other plastic games can be used as well. For plastic games (i.e., Pop up Pirate, Pop the Pig, Shark Bite, etc), disperse the pieces amongst the students beforehand so they are only touching their own pieces. If the game requires a spinner, dice, or for you to touch something, the SLP can be the universal spinner. One clever idea I saw was to cover the game board in plastic wrap or Press n seal which allows the students to touch the board and is easy to disinfect. The plastic wrap would not damage the board.


Sensory Bins: For younger students, sensory bins are often used. These obviously pose bigger challenges because the materials are often soft and cannot be easily sanitized. Instead of a bin, blogger "Texas Speech Mom" used a bottle rack. The bottle rack is plastic and easily disinfected. Stimulus cards can easily be placed within.
Dry Erase Pockets: Reuse worksheets by covering worksheets in plastic covers. Students can draw on the covers with dry erase markers. Book pages can also be placed in these covers which allows children to touch the book.
Clear Masks: Clear masks make therapy easier. You can see the student's mouth which is helpful, especially for articulation therapy. Although these may not be available everywhere, check with school personnel to see if they will provide clear masks for students. If not, you can go outside and socially distance without masks to the best of your ability (please check with your district to make sure you are meeting all COVID requirements).
Material-Less Therapy: Therapy with minimal or no materials is possible, too! Plan a game or activity that requires no physical materials and utilizes movement. Games, such as "Simon Says", allow for no materials to be used or sanitized afterwards.
I hope these ideas provide some guidance and remember to be confident in your creativity!
About The Author

Hannah Greeling is a speech-language pathologist who works in the school setting. Her current population consists of students in early childhood through 2nd grade. However through her previous experiences, she has worked with children ages 2-15. She enjoys the diversity that speech pathology brings and hopes to share strategies and ideas to help facilitate communication with your students. She received her undergraduate degree in Communication Disorders and Sciences from Eastern Illinois University and her masters degree in Speech-Language Pathology from Southern Illinois University Edwardsville.