My students are always excited when sensory play is incorporated into our sessions. I earn extra bonus points when the activities are seasonally themed! The following ideas are a few of the popular activities I rotate through during the winter season.
Shaving Cream
Shaving cream is incredibly versatile! During the winter months, we pretend that the shaving cream is snow. Students smear the shaving cream on a table or baking sheet to practice writing letters with proper formation, imitating shapes, or even drawing! A less messy way to play with shaving cream is to squeeze the shaving cream into a gallon sized resealable bag. The bag can be used to move pieces around to make a design (building a snowman is a favorite) or completing the writing activities as listed above. Remember* You can add an extra sensory component if you use scented shaving cream.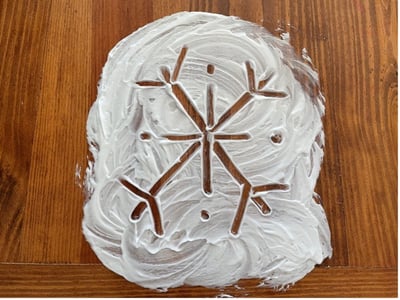 Modeling dough
Any dough can be used, but homemade modeling dough is my favorite! Adding scented oils such as peppermint, gingerbread, pine, or cinnamon gives the added olfactory experience. A popular winter dough activity for students is using cookie cutters to make a cookie assembly line. This activity targets fine motor skills and step by step direction following. Kick it up a notch by providing students with directions on how to decorate their cookies and race the timer to complete the task.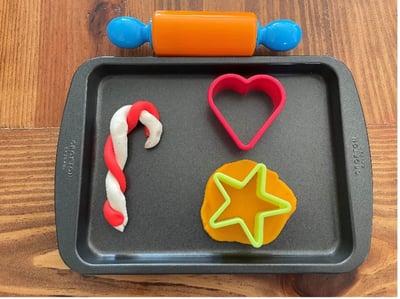 Cotton balls
I rotate through two cotton ball activities during the winter. Cotton balls can be manipulated with a variety of tongs, scooping using a spoon, or simply by pinching with fingers. One option is to place cotton ball "marshmallows" in a "hot cocoa" mug. Another great way to incorporate cotton balls is to have students place them into a clear bottle that is decorated as a snowman.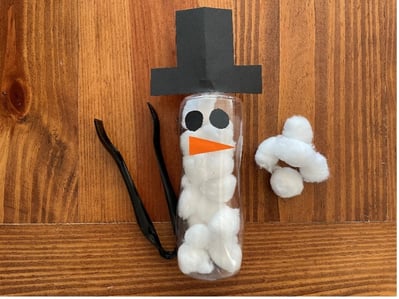 Ice Cubes
Using ice cubes does require preparation, but the prep work pays off in the amount of fun for the students. Choose small items, such as animals or favorite characters and freeze them inside the ice cubes. Using an eye dropper or spray bottle, have students spray salt water on the ice cube to "rescue" the animal inside. This is a great task for students to race to free the animal from the iceberg.
Sensory I-Spy
Use an old bottle to create a winter I-Spy activity. Some great items to place inside the bottle include glitter snowflakes, small winter shaped erasers, and letter beads. To give the sensory bottle a cool winter feel, use blue food coloring and glitter to imitate the sparkle of snow.
Incorporate these "cool" winter activities into your rotation to bring some seasonal sensory fun to your classroom!
About The Author

Emily attended Maryville University of St. Louis, where she earned her Masters of Occupational Therapy degree in 2010. She began her career in the hospital setting, but has worked as a school based occupational therapist since 2013. Emily currently provides services to students in three local school districts. When she is not working, Emily enjoys traveling, trying new foods, and spending time with her husband, Daniel, daughter, Delaney, and son, Emmett.