We all know a LOT of planning goes into therapy. From choosing activities to incorporating various goals, SLPs spend ample amounts of time planning out therapy sessions and tailoring them to each individual student. One aspect that I have found that makes planning easy is choosing themes for my therapy. I know that not all therapists love to incorporate themes and that's okay! Everyone is different, so choose what works best for you!

However, if you're looking for ideas on why themes can be helpful, here are a few:
Context - Themes provide context. This can be incredibly important in therapy, especially when a student may be difficult to understand. It can encourage conversation, too! For example, if you choose the theme "animals", you could discuss pets they may have, or, with an "ocean/beach" theme, you could discuss vacations or trips the student may have gone on. Building rapport with your students is so important.
Supporting academ

ics

- Themes can give the students more familiarity with certain vocabulary words or concepts. This can be especially helpful when your theme coincides with the classroom curriculum. Not only are you supporting concepts outside of the classroom, but you're allowing the student to demonstrate things they may have already learned as well.
Convenience - I find that having a theme helps me narrow down my materials. I can choose an activity, book, or craft that correlates with the theme. Typically, I prep items once and can use them again the next year. It makes future planning so much easier! If these activities start to get monotonous, I add in something new.
Applicable to all grade levels - You can reuse themes across grade levels as well. You may only need to change a few things to reflect grade level expectations. For example, if you choose to use the theme "flowers" or "plants" for spring, you may do a craft with 1st graders discussing parts of a flower with their target sound (e.g., if you're targeting 's' - you could use the words "flowerS", "petalS", "Stem"), but if you're working with 5th graders you could read an article about the life cycle of a plant and have them highlight their target sound (e.g., "photoSyntheSiS", "Cycle") and practice those words.
Some ideas for 4th quarter themes include: St. Patricks Day, bugs/plants, weather, baseball, or an ocean/beach theme. Hopefully, this gives you some ideas to make planning for the end of the school year a little easier!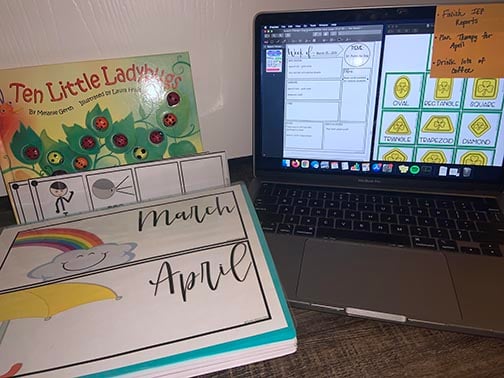 About The Author

Hannah Greeling is a speech-language pathologist who works in the school setting. Her current population consists of students in early childhood through 2nd grade. However through her previous experiences, she has worked with children ages 2-15. She enjoys the diversity that speech pathology brings and hopes to share strategies and ideas to help facilitate communication with your students. She received her undergraduate degree in Communication Disorders and Sciences from Eastern Illinois University and her masters degree in Speech-Language Pathology from Southern Illinois University Edwardsville.