Sensory rooms can offer vital opportunities for calming and organizing input for our special education students, and I am fortunate to work in a school district that recognizes the value of sensory rooms. Despite being short on space, my school administration has reconfigured areas to allow for a space for a sensory room in three of its buildings!
While I did not initially design these sensory rooms, I've used my expertise as an occupational therapist to offer design modifications and equipment suggestions in order to create the best space to best meet students' unique sensory needs.
After collaborating with teachers in the primary, elementary, and middle school grade levels, I have determined four key elements that are essential to sensory room design.

Swings
If space and budget allow, a swing is the most important piece of sensory equipment for your sensory room. You will need to ensure adequate clearance from walls and doors, and you will need to lay a padded surface beneath the swing. The Fun & Function website provides tips and guidelines for installing indoor swings. Regarding swing types, my first recommendation is a platform swing, due to its versatility. Students can swing in a linear pattern for calming vestibular input and can swing in a rotational pattern for alerting input. Students can also gain proprioceptive input by lying prone and using their hands to retrieve materials from the floor.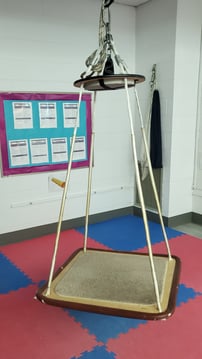 A lycra swing is my second recommendation for sensory swings due to its ability to provide proprioceptive input to a large surface area of the body.
Cozy Corner
My second recommendation for sensory room design is creating a cozy corner. This area is crucial for students who are feeling overwhelmed and need an opportunity to calm their bodies. Equipment that is useful for a calming corner include a rocking chair for vestibular input and a beanbag chair for proprioceptive input.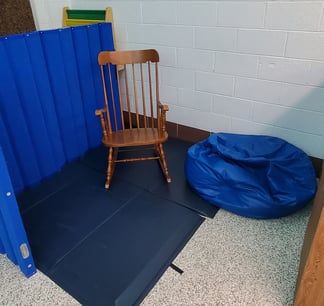 Visual tools, such as light toys and sensory jars, as well as tactile objects such as touch-and-feel books are also beneficial for this area.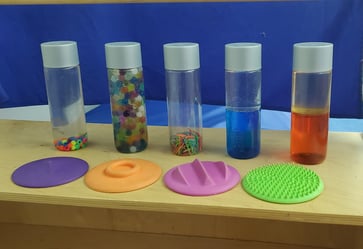 Light covers
Because many children with sensory needs are sensitive to lighting, overhead lights should be dimmed with light covers. Once installed, light covers instantly transform the room into a warm and inviting space.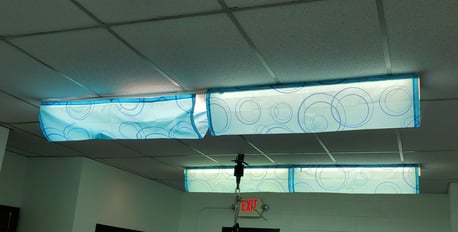 Simplify the space
A sensory room that is overcrowded with equipment will not be as useful as a sensory room with a simple design that uses limited, but impactful, resources. Even if you have an unlimited budget, you want to select only a few key pieces of sensory equipment to keep the space uncluttered. An organized room helps to organize the brain!

By following these four key elements to sensory room design, I am confident that you will create a space that will help both current and future students reach their optimal sensory level for learning!
---
About The Author

Tahnee earned her Masters Degree in Occupational Therapy from the University of Illinois at Chicago in 2010. She has worked with the pediatric population in the school setting since 2010 and in the outpatient clinic setting since 2013. Outside of work, Tahnee enjoys spending time with her husband, Nathan, her daughter, Zoe, and her dog, Ruthie.