Each year, I try to create something extra special with my students for them to always remember their time in my room. Something more than a regular craft that we do throughout the year.
This year, I decided to give my keepsake as a Mother's Day gift, rather than hold on to it for the end of the year project. And I am so glad I did!! I had so many moms reach out to me and tell me how much they loved their gift, which
made the time doing it worthwhile.
We created these adorable little handprint keychains using "Shrinky Dinks". You can get the Shrinky Dink plastic from
Amazon
or a craft store; I got mine from
Michaels
.

Let me walk you through the steps:
I painted each kiddo's hand using craft paint and helped them push it onto the Shrinky Dink plastic.


After the hands had dried, I cut around the edge, wrote their name and the year, and used a hole puncher to make hole in the top. THAT IS IMPORTANT: Make sure you punch the hole and write their name BEFORE you bake the project!


I then took them home and baked them at 325 for about 1 minute and voila, they were the size of a keychain.


I added the keychain rings then taped them in the card that the students painted and sent them home.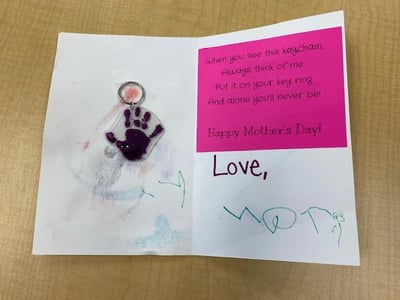 This project was super fun, simple, and TOTALLY worth the effort put into it!
---
About The Author

My name is Lynn Wilke. I live in Aviston, IL with my husband, Adam, and daughter, Aris. I am a self contained early childhood teacher at Highland Primary School. I have worked in a blended preschool setting previously but love the small group instruction that my self contained class offers. My kiddos are each unique in their own way and receive individualized attention daily. We use ABA to work through academic readiness, language building, fine motor, and many other skills throughout the day. I can't wait to share some of my classroom with you through this blog!