If you are anything like me, you often find yourself wanting to refresh your classroom materials, but you're trying not to break the bank. I am always looking for a great deal, or better yet, repurposing items that I already have at home. Often the simplest of items make for exciting "new" classroom items. Some of the most popular items in my therapy bag have come at low or no cost to me.
Here are a few ways to add some budget friendly fine motor fun to your classroom.
Think Take-Out
Plastic serving tongs, chop sticks, and straws can all be used as tweezers. Straws? Yes! Fold a straw in half and use it as tongs or take two straws and use them together as chop sticks. Use your "tongs" to sort, race to transfer items into a container (bonus points if you use a recycled take-out container), or make a pattern with items in the compartments of an ice cube tray. The options are endless!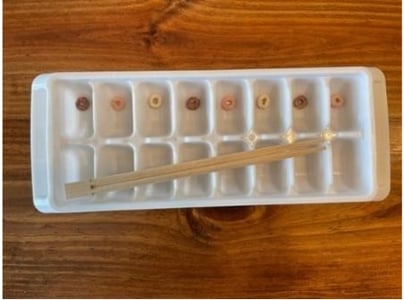 In the Pantry
I am hesitant at times to bring actual food into the classroom due to potential allergies and not wanting to cause an infestation. If stored properly, food items can have an appropriate time and a place within your fine motor tool rotation. Use your noodle! Dry pasta is an excellent fine motor tool. Students can carefully hold a long dry noodle, such as spaghetti or linguine, while stringing hollow cylinder pasta, such as mostaccioli or penne. This task can prove to be quite tricky, as you must use precision while stringing, as to not break the dry pasta. Another great item is O-shaped cereal. You can stack it, string it, scoop it, or sort it (if it's colorful).

Cut, Clip, Shake, and Baste
Cookie cutters are a favorite for my students. We stamp with paint, trace with markers, and cut modeling dough. Chip clips can be used as resistance tools to build strength or as a count and clip game on a paper plate. A favorite method for many of my students is when we turn our chip clips into "monsters" to "munch" small items. Grated cheese containers can be turned into frog mouths. "Feed the frog" through the large opening or use precision to drop small items through the small holes (cut pieces of straws work great and bring the activity if resistive cutting to your students). Turkey basters aren't just for Thanksgiving! Break that baster out year-round to squeeze liquid and transfer into containers. Race to see who fills their container the fastest.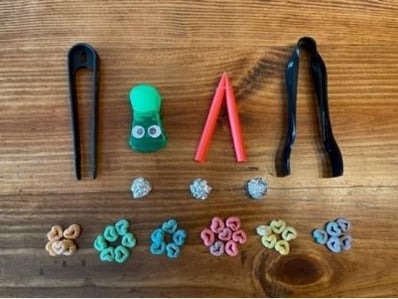 These ideas are bound to bring some budget friendly fine motor fun to your classroom, all the while decluttering your kitchen!
About The Author

Emily attended Maryville University of St. Louis, where she earned her Masters of Occupational Therapy degree in 2010. She began her career in the hospital setting, but has worked as a school based occupational therapist since 2013. Emily currently provides services to students in three local school districts. When she is not working, Emily enjoys traveling, trying new foods, and spending time with her husband, Daniel, daughter, Delaney, and son, Emmett.